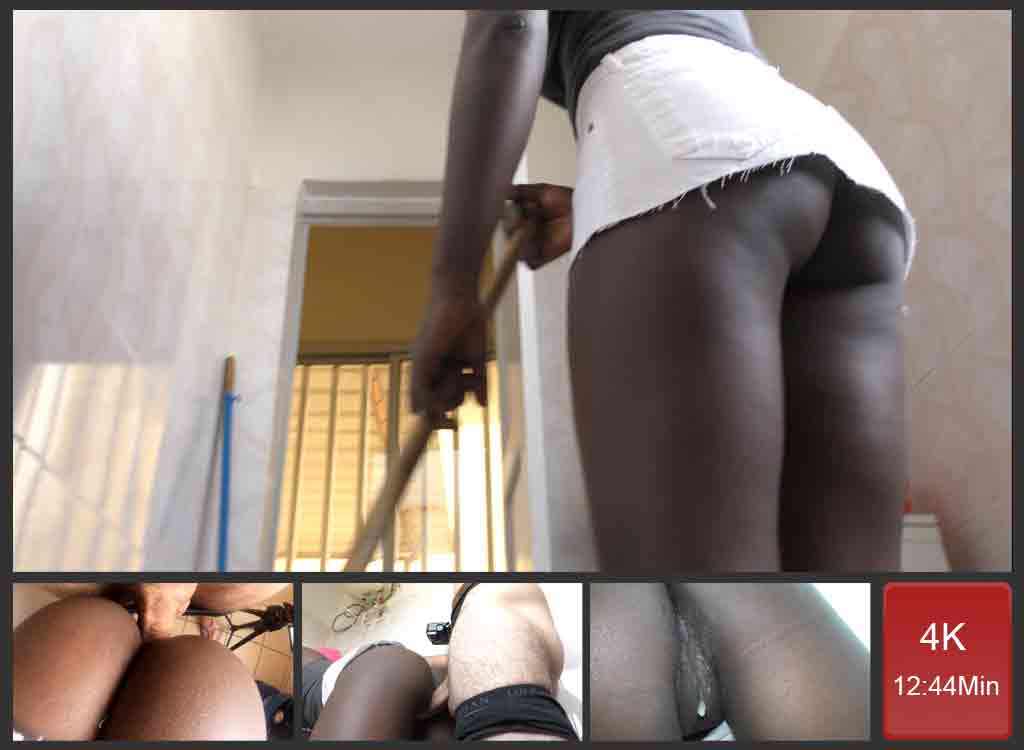 Sexy Black Maid On Duty
My sexy black maid has come home to perform her duty. She is wearing a very short mini white skirt. Because she needs sex and loves my cock, she is always ready to offer Daddy what she is most precious to. Therefore, I take my camera and start recording her swiping the floor. At the very moment, she enters the place, my cock is shape-changing and I start fantasizing about her beautiful little butt I am going to fill with my big white cock. She loves it, I love it and she knows I do love it.
Doggy Fuck In The Kitchen
I can't wait to penetrate her little tight cunt. I grab the groom and put it aside, grab her hip and bend her down, while my dick is growing hard in my underpants. Her butt is beautiful, I caress it for a while prior to taking out my penis and inserting it between her slot lips. Hmmm, that is always a very good time to have. As usual, I start doing her, taking advantage of her beautiful body shape. She can't help moaning as long as I am penetrating her, fighting the hell not to cum all at once.
Breeding My African Maid
It's time to unload now. The pleasure is growing to a point where I can't hold back my sperm anymore. She does receive the first squirt deep inside while I am contracting all my body. The orgasm is shaking my balls and press them to dump the maximum jizz they can spit. I am stuck in her, gripping her hips with both hands and pulling them toward me as strong as I can. My sperm is filling her little tight cunt while I am still pushing in. Gently and slowly, I am pulling out my penis from her cunt. Now her pussy is licking semen from Daddy!